Character menu
The character categories and their possible forms are:


Is this a leafy liverwort or a moss?
A number of characters help distinguish leafy liverworts from mosses, including:
Liverwort leaves never possess a nerve (although some have a midrib).
Often there are two rows of leaves placed laterally and a row of smaller 'underleaves' below.
The capsule splits along 4 axes (capsules in the moss Andreaea open by four splits but the capsule remains joined at the apex).
Frullania tamarisci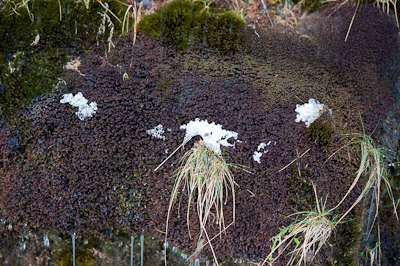 Dripping water from snowmelt saturates this large community of the crimson-coloured leafy liverwort, Frullania tamarisci. Growing on a metamorphic rock exposed in a cutting on the old railway line at Glen Ogle, between Lochearnhead and Killin, Stirlingshire.
Diplophyllum albicans
Frullania dilatata
Frullania tamarisci
Lophocolea bidentata
Plagiochila asplenioides
Plagiochila spinulosa
Porella cordeana
Ptilidium ciliare
Trichocolea tomentella
Many leafy liverworts, whether erect or prostrate, have a row of ovoid leaves on each side of the shoot which leads to a dorsiventrally compressed leafy shoot. In lax species, large numbers of such shoots often lie one on top of another, forming a mound; such aggregates provide shoots with mutual support and will also tend to reduce water loss due to the partial enclosure of moist air.

---