Character menu
The character categories and their possible forms are:


Underleaves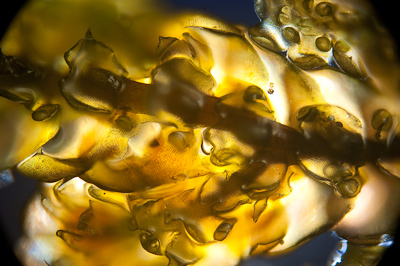 Many leafy liverworts have two rows of leaves opposite one another, and a third row of smaller underleaves borne below. The liverwort here is viewed from below in a mix of transmitted and reflected light, showing the complex outline that can result from the shape and folding of the various leaves on the shoot.
A work in progress
Liverworts proving difficult
A comparison of these liverwort pages with those dealing with mosses shows that I have much more work to do to make the character lists for liverworts more comprehensive. I've also noticed that their characters are more difficult to categorise into more or less mutually-exclusive groupings, compared to the case of mosses. This is perhaps in part a reflection of the distinct evolutionary trajectories taken by the mosses and the liverworts.
Whether or not the leaves overlap in a leafy liverwort may not be a very formal character, but it may aid identification. In
Lophocolea bidentata
the junction of leaf with stem is oblique, with the rear part of each leaf further from the abaxial (lower) side of the shoot than the front part of each leaf, i.e. the leaves are inserted in a succubous arrangement.