Character menu
The character categories and their possible forms are:


Riccardia palmata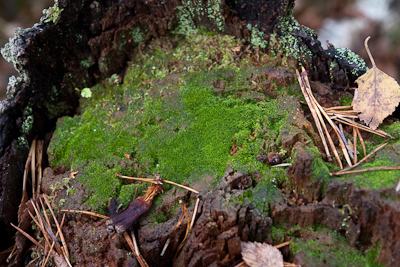 Some liverworts are extremely small, such as the patch of Riccardia palmata colonising this tree stump in a wood east of Alford in Aberdeenshire.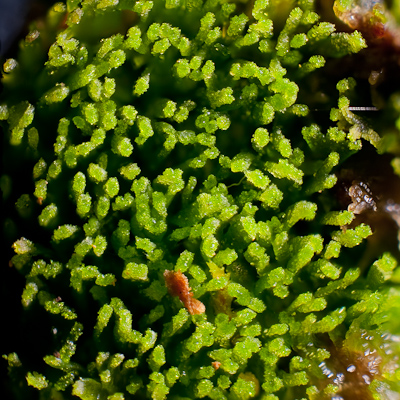 Under the lens the individual shoots become apparent, but to the naked eye the green patch on the stump could be mistaken for a green algal community.
Liverwort leaves
Liverworts show diversity in some features which in mosses tend to be uniform.
While the range of structures in liverwort leaves is less varied than that of mosses, in particular there's never any development of a costa or nerve, the outline of leafy liverwort leaves shows great diversity. In some species there's relatively wide lobes or narrower finger-like projections, others have sharp-pointed cusps or notches. Finer features include spine-like protrusions, teeth and hairlike fringes.

Another area where liverworts "excel" in terms of morphological diversity is in the range of form in underleaves and lobules.
Boquhan Burn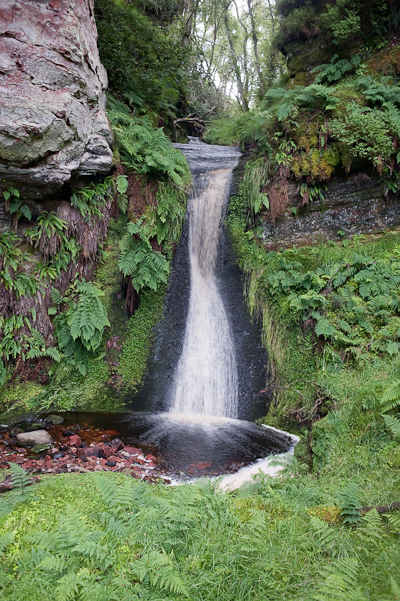 Here's a typical Scottish habitat where bryophytes will be found in some abundance. The damp crevices in the rocks may be home to leafy liverworts while flat areas of rock close to the water are likely niches for thallose liverworts. Boquhan Burn, near Kippen, Stirlingshire.
Bazzania trilobata
Calypogeia fissa
Calypogeia muellerana
Frullania dilatata
Frullania tamarisci
Porella cordeana
Viewed from above, many liverworts appear to have shoots with a simple leaf arrangement of two rows of overlapping leaves. However, in many species, looking at the underside reveals further complexity including underleaves (which can vary in size and shape from the leaves on the top surface of the shoot), and lobules or amphigastria (folds in the leaves which can give the impression of further rows of leaves).

---