Character menu
The character categories and their possible forms are:


Western bryophytes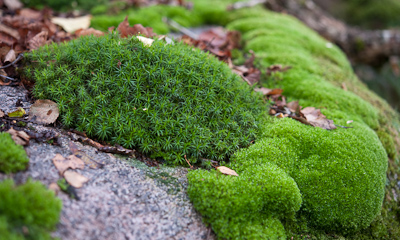 The wonderfully-named glen "My Lord's Throat", east of Alford, Aberdeenshire, has a surprisingly western bryophyte flora for a location on the east of Scotland.

Granite boulders are strewn over the steep slopes in this birch woodland, providing a niche for species favouring acid rocks. The photo shows a rich-green mound of Polytrichum accompanied by paler cushions of Bryum.
When a leaf is not a leaf
The green moss plant is not a diminutive, reduced version of a flowering plant
Bryophyte "organs and tissues" may resemble those of vascular plants, but they must have evolved separately and are not homologous morphological structures. To see why this is so, you have to remember that the leafy moss plant, the gametophyte, comprises haploid cells. Cells of this ploidy in flowering plants are found in the pollen grains and the ovules, while the leafy shoots are part of the diploid sporophyte plant body. The sporophyte on mosses comprises the semi-parasitic seta and moss capsule.

And so although we use terms such as shoot and leaf to describe parts of mosses that play similar roles to the same-named parts in vascular plants, they arise in a different generation in the life cycle. If a pollen grain or ovule developed photosynthetic shoots and leaves, we'd have something more akin to the moss gametophyte.

The overall similarity in plant structure between moss gametophytes and vascular plant sporophytes must be the result of convergent evolution.

To reflect these different origins, technical terms for the shoot-like and leaf-like parts of mosses have been defined, although these are rarely used by bryologists. However, this distinct nature of moss parts is worth bearing in mind and may go some way to explaining the ways in which moss "shoots" and "leaves" can demonstrate innovations in form and structure that are not found in vascular plants.
Corrie of Balglass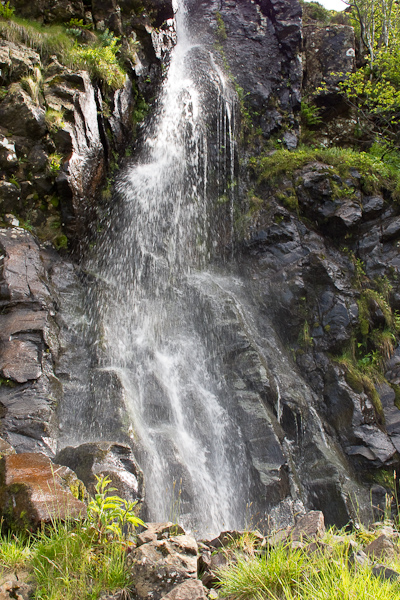 Cloch Burn drops over the cliffs at the Corrie of Balglass near Fintry, Stirlingshire, creating a variety of niches inhabited by a range of mosses and liverworts.
Bryophyte books
Here's a list of the bryological texts on my bookshelf:
More content
There's more content to come on this page in particular, as moss leaves have many structures helpful in species determination. Coming soon are species lists grouped according to the characters listed below.
Leaf margins:
Recurved
Not recurved
Leaf surface:
Wavy / undulate
Flat / Smoothly curved
Distinctly folded or with a keel
Outline shape of the leaves
Colour of the leaves:
Yellow-green
Yellow
Orange
Red
Red-brown
Black
Silvery
Shape of the leaf cells in different parts of the leaf
Bryum capillare
Bartramia pomiformis
Brachythecium albicans
Grimmia laevigata
Hedwigia stellata
Orthotrichum diaphanum
Pogonatum aloides Note:
The marginal border cells in Pogonatum aloides continue into a robust "spine" at the tip of the leaves.
Polytrichum commune Note:
Polytrichum commune has toothed or jagged points at the ends of the leaves.
Polytrichum piliferum Note:
Polytrichum piliferum has toothed or jagged points at the ends of the leaves.
Racomitrium heterostichum
Racomitrium lanuginosum
Syntrichia laevipila
Syntrichia ruralis
Tetraplodon mnioides Note:
The long drawn-out wavy leaf point in Tetraplodon mnioides may have small teeth.
Tortula muralis
Hairpoints vary in their length relative to the leaf, some just projecting slightly from the leaf apex while others can be longer than the leaf "blade" iteself.
As hairpoints are generally unpigmented, they perhaps help reduce water loss by the leaves through reducing air flow over the leaf surfaces, while not interfering with light penetration to the photosynthetic cells of the moss.

---
Atrichum undulatum
Amblystegium serpens
Andreaea
Aulacomnium androgynum
Aulacomnium palustre
Barbula sardoa
Barbula unguiculata
Brachythecium populeum
Brachythecium rutabulum
Bryum alpinum
Bryum argenteum
Bryum pallens
Bryum pseudotriquetrum
Calliergonella cuspidata
Ceratodon purpureus
Cratoneuron filicinum
Ctenidium molluscum
Dicranoweisia cirrata
Eurhynchium striatum
Calliergon giganteum
Climacium dendroides
Fissidens bryoides
Funaria hygrometrica
Gymnostomum aeruginosum
Gyroweisia tenuis
Homalothecium sericeum
Hylocomium splendens
Hypnum cupressiforme
Hypnum jutlandicum
Kindbergia praelonga
Leucodon sciuroides
Mnium hornum
Orthotrichum cupulatum
Orthotrichum rivulare
Orthotrichum stramineum
Palustriella commutata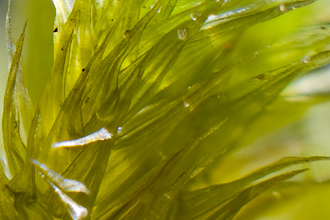 Homalothecium sericeum
(Brachytheciaceae)
Philonotis fontana
Plagiomnium ellipticum*
Plagiothecium undulatum
Pleurozium schreberi
Pohlia melanodon
Pohlia wahlenbergia
Pseudocrossidium revolutum
Pseudoscleropodium purum
Pterygonium gracile
Racomitrium fasciculare
Rhynchostegium confertum
Rhytidiadelphus loreus
Rhytidiadelphus triquetris
Rhizomnium punctatum
Schistidium rivulare
Thamnobryum alopecurum
Tortella tortuosa
Trichostomum brachydontium
Ulota bruchii
Ulota phyllantha
Warnstorfia fluitans
Hairpoints are important, and much discussed, diagnostic characters, particularly regarding their length relative to the length of the leaf. I was therefore surprised at the length of the list here, comprising numerous common UK moss species, all with no hairpoint.
I've not yet attempted to see if there's any correlation between presence / absence of hairpoints and the nature of the niches inhabited by each group of mosses.

---
Ctenidium molluscum
Palustriella commutata
Rhytidiadelphus squarrosus
I've combined a range of features in this single character, as there appears to be few species that show these leaf forms. The essential feature highlighted is that the leaves are bent along their long axis in one way or another.
It seems reasonable to assume that any degree of folding of moss leaves will tend to help retain moist air, but at the expense of not presenting as much of the leaf surface perpendicular to the rays of the sun, compared to what properly-oriented flat leaves can achieve.

---
Bryum capillare
Fissidens bryoides
Funaria hygrometrica
Plagiomnium ellipticum*
Syntrichia laevipila
Syntrichia ruralis
Tortula muralis
The example shown here of a moss with an excurrent costa, illustrates the character very clearly. It can be seen that the costa is devoid of pigmentation after it leaves the leaf "blade", becoming a hyaline hairpoint.
The costa is associated with structural rigidity and perhaps some degree of water transport, but after it transitions into a hairpoint, it's role may be primarily to reduce water loss.

---
Atrichum undulatum
Aulacomnium androgynum
Aulacomnium palustre
Barbula sardoa
Barbula unguiculata
Brachythecium rutabulum
Bryum alpinum
Bryum pallens
Bryum pseudotriquetrum
Ceratodon purpureus
Climacium dendroides
Dichodontium palustre
Dicranoweisia cirrata
Fissidens dubius
Philonotis fontana
Pogonatum aloides
Polytrichum commune
Polytrichum piliferum
Orthotrichum rivulare
Orthotrichum stramineum
Palustriella commutata
Plagiomnium ellipticum*
Pseudocrossidium revolutum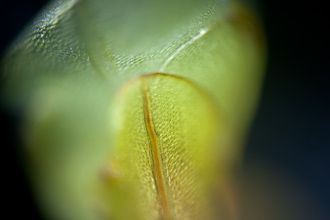 Rhizomnium punctatum
(Mniaceae)
Racomitrium fasciculare
Rhizomnium punctatum
Schistidium rivulare
Tetraplodon mnioides
Trichostomum brachydontium
Ulota bruchii
Ulota phyllantha
Of the mosses with a costa but no hairpoint, the majority appear to possess a costa which reaches the tip of the leaf, rather than stops short of it.
This could, perhaps, be considered the optimal arrangement of the costa from an "engineering" point of view, maximising both the strength and water transport functions of the structure.

---
Aulacomnium androgynum
Brachythecium populeum
Gyroweisia tenuis
Kindbergia praelonga
Mnium hornum
Pohlia melanodon
Pohlia wahlenbergia
Thuidium tamariscinum
In mosses with very small leaves, determining whether the costa reaches the leaftip or not can be difficult. However,
Mnium hornum
, with it's relatively large spreading leaves, shows the costa detail very clearly.
Presumably there's little difference in functionality between costas that reach, and those that almost reach, the leaf tip.

---
Calliergonella cuspidata
Ctenidium molluscum
Hedwigia stellata
Leucodon sciuroides
Hylocomium splendens*
Hypnum cupressiforme*
Pleurozium schreberi*
Most of the common mosses, at least, have a nerve or costa, and so the absence of this character is a useful diagnostic.
It would be an interesting exercise to see if there's any correlation between moss species lacking a costa, and the environment they occupy. Avalability of moisture comes to mind, but
C. cuspidata
is found in wet environments while
H. stellata
is often found on exposed rock surfaces in elevated locations.

---
Atrichum undulatum
Aulacomnium palustre Note:
Teeth only present towards the tip of the leaves.
Bartramia pomiformis Note:
Teeth only present towards the tip of the leaves.
Brachythecium plumosum Note:
Denticulate.
Brachythecium rutabulum Note:
Denticulate.
Breutelia chrysocoma
Bryum rubens Note:
Commonly faintly toothed towards leaf tip.
Climacium dendroides Note:
Branch leaves coarsely toothed towards leaf tip; stem leaves smooth.
Cratoneuron filicinum
Ctenidium molluscum
Dicranella rufescens Note:
Denticulate at least above.
Dicranum fuscescens Note:
Toothed towards leaf tip.
Dicranum majus Note:
Sharply toothed towards leaf tip.
Dicranum scoparium Note:
Variously toothed towards leaf tip.
Eurhynchium striatum
Fissidens adianthoides Note:
Toothed towards leaf tip.
Fissidens dubius Note:
Irregularly toothed towards leaf tip.
Hylocomium splendens
Hyocomium armoricum
Isothecium alopecuroides Note:
Teeth only present towards the tip of the leaves.
Kindbergia praelonga
Mnium hornum
Oligotrichum hercynicum Note:
Widely spaced.
Palustriella commutata Note:
Denticulate below (and possibly throughout).
Philonotis fontana
Plagiomnium ellipticum Note:
Sometimes lacking.
Plagiomnium rostratum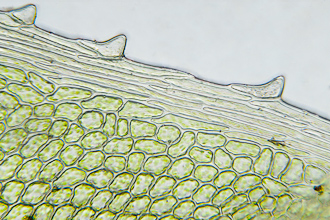 Plagiomnium rostratum
(Mniaceae)
Plagiomnium undulatum
Pogonatum aloides
Pogonatum urnigerum
Pseudoscleropodium purum Note:
"Lightly toothed" according to Watson, although I've not yet noted the teeth.
Pterygonium gracile Note:
Dentate above.
Ptychomitrium polyphyllum
Rhynchostegium confertum
Rhodobryum roseum Note:
Distantly toothed at apex.
Rhytidiadelphus loreus
Rhytidiadelphus squarrosus
Rhytidiadelphus triquetris
Thamnobryum alopecurum Note:
At apex.
While compiling this list I noted that many mosses with teeth, bear them towards the leaf tip only, and so a separate list of these might be helpful. A further discrimination could be made in relation to the shape (e.g. sharp, blunt), spacing and relative size of the teeth (including whether they are multicellular).

---
Polytrichum piliferum
Campylopus atrovirens
Grimmia pulvinata Note:
Lightly but distinctly toothed.
Hedwigia stellata Note:
Hyaline apex bears spinose teeth.
Racomitrium lanuginosum
Syntrichia ruralis ssp. ruraliformis
The teeth on hairpoints and hyaline tips of moss leaves, often have an appearance quite different from the kinds of teeth that are borne on leaf margins. In the latter, it's common for a marginal cell to be triangular or with a distinct kink, such that a tooth-like projection is formed. The teeth on hyaline points, on the other hand, often look like spinose projections of cell wall material.

---